| | |
| --- | --- |
| Posted by Linda Monroe Ward on July 5, 2011 at 9:04 PM | comments (2) |
Today was a fun day for me. Back in May, I had gone to Badin, NC and had taken photos of some of the buildings in the town. I also met a really nice lady named Twila who runs Twila's Thrift and Gift in the center of town. We talked about creating note cards and magnets from my photography. I spent the next few weeks creating artwork from my photography, and then I created the notecards. Today my husband and I took them to Badin, and Twila put them in her shop. See below the image of her shop which is housed in the old Holt gas station.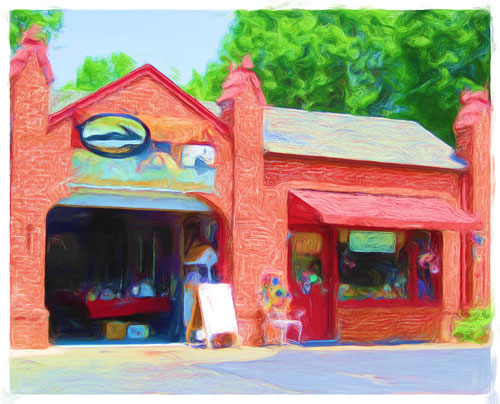 We also ate dinner today at the Dough Bro Bistro next door to Twila's Thrift and Gift. The food was excellent and the service was wonderful! I ordered the Bacon Jack Chicken Sandwich with homemade potato salad. Tom ordered the Tuna Melt with potato salad. The sandwiches were made on homemade bread and were huge! The seasonings on the sandwiches were wonderful. We were also given a very large portion of potato salad. If you ever visit Badin, you must be sure to eat here!
Our last stop in Badin was the Badin Historic Museum. Found there is the main museum, the Firehouse Museum, and the Quadruplex Museum. What a wonderful source of information on the history of Badin! This town was actually built by Alcoa Aluminum back in the early 1900s. Rivers, dams, and lakes are a big part of the history of Badin.We found the people here as well as elsewhere in the town to be very friendly and proud of their town. Everyone was more than willing to share their town with us. See below an image of the Firehouse Museum.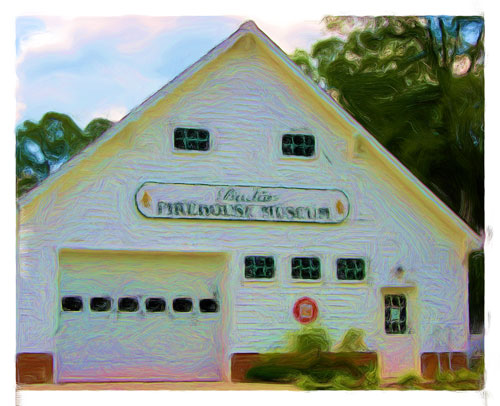 Our last stop for the day was the Falling Rivers Gallery in Albemarle, NC. What a wonderful place, and the people were very friendly. I had gone there before, and I noticed the work of a photographer that I thought did wonderful work. Today I finally was able to meet her and "talk shop" with her. Her name is Deb Russell, and you can find her website below.
Deb Russell Photographic website
You can also visit the website of Falling Rivers Gallery below.
Falling Rivers Gallery website